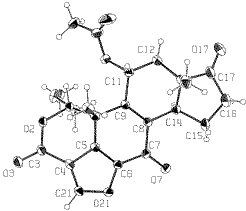 ORTEP-III (Burnett, 1996) drawing
Wortmannin is isolated from Penicillium wortmanni and is a potent inhibitor of phosphatidylinositol 3-kinase (PI 3-kinase). The electrophilic 21-site makes a covalent linkage with the enzyme and the inhibition of PI 3-kinase is irreversible. PI 3-kinase mediates several intracellular signaling pathways, and wortmannin has been focused as a probe to understand the structural requirements necessary for PI 3-kinase inhibition. Two types of structure has been reported for wortmannin; one is orthorhombic crystal and space group P2121212, the other is a 21-methylated analogue and monoclinic, P21. This crystal is a polymorphic with monoclinic C2.
When the minimum van der Waals radii for carbon, oxygen and hydrogen atoms are considered approximately as 1.5, 1.7 and 1.2 Ang respectively, a short contact is found at C21...O21. The distance between H21 and O21 atoms is about 0.5 Ang below the sum of the van der Waals radii of hydrogen and oxygen (=2.7 Ang. and it could be defined as the C-H...O hydrogen bond.



Paper: Polymorphism and C-H...O interactions of Wortmannin, a Phosphatidylinositol 3-Kinase Inhibitor
Mitsunobu DOI, Toshimasa ISHIDA, Akira TERASHIMA, Taizo TANIGUCHI, Masahiro SASAKI and Chikako TANAKA
Analytical Sciences (1998) 14, 1191-2.