Desoxazoline ascidiacyclamide dimer
monohydrate, 3DMF solvated

cyclo(-Ile-Thr-D-Val-Thz-Ile-D-alloThr-D-Val-Thz-)2
[Thz=thiazole, Thr=(2S,3R), D-alloThr=(2R,3R)]






This structure was reported in "Recent Artricles in IUCr Journals" of IUCr Newletter Volume 10 Number 3 (2003). Click title, download an extracted part of PDF (2.7MB). The original PDF is distributed, but its size is 21MB.

Reference: Copyright © International Union of Crystallography
A. Asano, T. Taniguchi, M. Sasaki, H. Hasegawa, Y. Katsuya and M. Doi (2001).
A [beta]-sheet structure formed by C--H...O hydrogen bonds between the thiazole rings and amide bonds of a dimeric desoxazoline ascidiacyclamide analogue
Acta Crystallographica Section E, Volume 57, Part 09, pages o834---o838.

See also Index of Section E.


X-Ray diffraction data were measured on SPring-8/BL24XU-A with the approval from Hyogo Prefecture and Japan Synchrotron Radiation Research Institute (C00A24XU-5003N).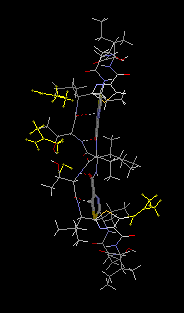 RasMol2.7.2.1, and stucked by GifBuilder (Yves Piguet, 1997)