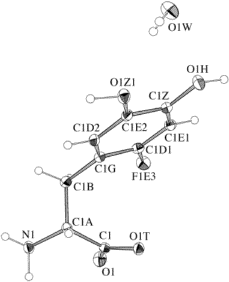 ORTEP-III (Burnett, 1996) drawing
Central delivery of 3,4-dihydroxy-L-phenylananine (L-DOPA) is a target in therapeutic strategy for Parkinson's disease or in diagnoses for cognitive disorder of brain. Radiofluorinated analogue of L-DOPA, 3,4-Dihydroxy-6-[18F]fluoro-L-phenylalanine ([18F]-L-DOPA) is used as a tracer in the positron emission tomography (PET) studies of the dopamine metabolism in the normal and pathological brain.1 It is assumed on the basis of the biochemical and pharmacological similarity that the distribution and metabolism of F-L-DOPA reflect those of L-DOPA. We examine the crystal structure of [19F]-DL-DOPA as a stable isotopic compound of [18F]-L-DOPA.



Paper: Crystal Structure of 3,4-Dihydroxy-6-fluoro-DL-phenylananine (F-DOPA) Monohydrate Used as a Positron Emission Tomography (PET) Imaging Ligand,
Mitsunobu DOI, Masahiro SASAKI, Hisahiro KAWAI and Toshimasa ISHIDA
Analytical Sciences (1998), 14, 1189-90.